ALM3222
The ALM3222 represents the next generation of Automatic Digital Laminators. Its fully automated operation will reduce both production time and costs.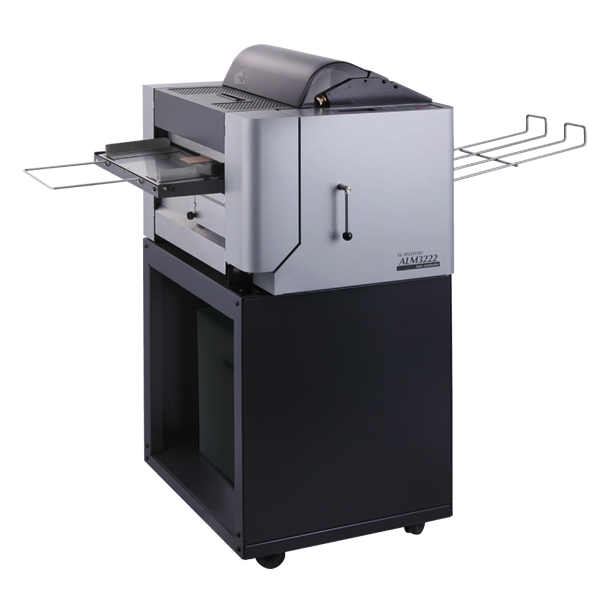 Laminating Speed

0.5~1.7m/min

Warm-Up Time

Approx.15min

Temperature Range

OFF・80-130˚C

Film Thicknesses

38~100 micron

Feed Tray Capacity

Max. Laminating Thickness

0.4mm(including film thickness)


Paper Thickness

64~240g/m2


Paper Size

Maximum:330(W)×457(L)mm
Minimum:257(W)×182(L)mm
Power Supply / Power Consumption

AC 110V, 120V, 220-240V / 1200W

Dimensions

1272(W)×600(D)×1100(H)mm

Weight

74.0kg

Accessories

Feeder Tray
Extension Tray
Rear Stacker Tray
Power Cord
Instruction manual
Waste Box
Stand
Applicable Sizes

A3
With margin:303×426mm(±0.5mm)
Without margin:294×417mm(±0.5mm)
A4
With margin:303×216mm(±0.5mm)
Without margin:294×207mm(±0.5mm)

B4
With margin:263×370mm(±0.5mm)
Without margin:254×361mm(±0.5mm)
B5
With margin:263×188mm(±0.5mm)
Without margin:254×179mm(±0.5mm)

Trimming Methods

2 modes: with / without margin with A3/A4/B4/B5 self determination system
>Trimmer Position Adjustment
Triming amount adjustable 3mm either way)
Cutting Position Adjustable
(Front: -30~+5mm / Rear:-5~+30mm)
※The finish is without rounded corners.